Premium protein 50% bar 2+1 free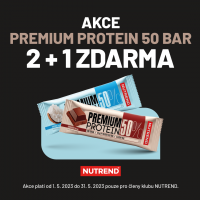 The highest standards of quality, perfectly balanced ingredients and great taste. Focus on extremely high protein and low sugar! One bar contains 25 grams of protein and only 1 g of sugar, even though the whole bar is coated in real milk chocolate. It is gluten-free and in three delicious flavours: cookies cream, chocolate and coconut.
Valid for Nutrend club members only.