Shape your body for summer!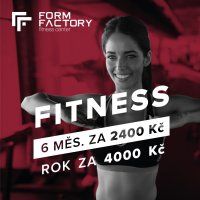 Prepare yourself for the summer. Choose from 2 offers of membership and start to workout on your summer body now. Get 6 month for 2400 czk or 1 year for 4000 czk.
Enjoy calm workout during the offpeak, all servicess including wellness and studio classes, access to 15 clubs.
Offer is limied!
More information at : https://www.formfactory.cz/gofitness/