"Your beautiful summer fragrance…" by Manufaktura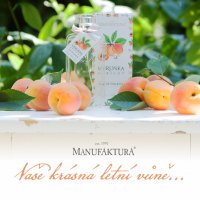 Apricot is a symbol of Czech summer – full of sun, health and recollections of childhood, in South Moravia you find it almost in every garden. Do you also love their wonderful taste? If so, then you will be pleased to cover the beautiful apricot scent from your head to toe.
Refreshing edition of APRICOT brings an original collection inspired by beneficial effects of apricot and other precious natural ingredients. Cosmetic products take advantage of beneficial effects of apricot oil, extract of apricot flesh or finely ground apricot stones with peeling effect. Emollient and regenerative apricot oil extracted from stones is ideal for fine, dry or delicate skin care. It contains high proportion of unsaturated essential acids and precious vitamins A and E. It fights against premature skin ageing, helps treat various skin diseases – acne and eczema as well. It calms irritable skin after sunbathing. Apricot flesh extract moisturizes skin appropriately. This cosmetic range is accompanied by fresh sparkling fruit aroma.
Do you like the smell of this summer fruit? Try out Eau de toillet APRICOT by Manufaktura - Ideal perfume full of sun not only for long summer evenings...