Infokiosk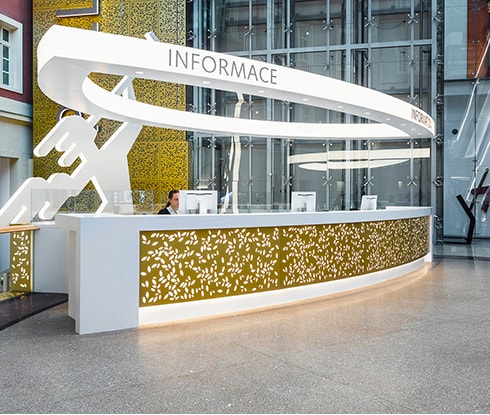 Contact
Tel.:

+420 225 770 250

Fax:

+420 225 770 251

Email: infokiosek@palladiumpraha.cz
Infokiosk is located on the ground floor (floor 0) by the entrance from náměstí Republiky.
Besides the basic information, the staff of Infokiosk provides you with Shopping Guide, Tax Free Shopping service, information about current and upcoming events of the center, lost and found belongings, PALLADIUM gift vouchers and first aid. You are also provided with Visiting rules of PALLADIUM shopping center.

The Infokiosk is available for you daily from 9 am to 9 pm. PALLADIUM gift vouchers, which you purchased online via our e-shop and you chose the possibility to pick them up in person at the Infokiosk, can be picked up daily from 10 am to 8 pm.