Extension of Validity of PALLADIUM Gift Vouchers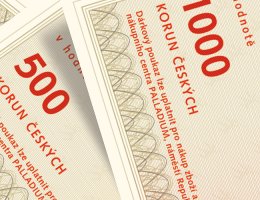 Since you were not able to use PALLADIUM gift vouchers due to the government´s restrictions related to the Covid-19 pandemic, we decided to automatically extend their validity by 3 months. This applies to the gift vouchers which will expire between March 1 and December 31, 2020 (e.g. a voucher valid until March 1, 2020 is now valid until June 1, 2020, etc.).
The sale of PALLADIUM gift vouchers remains unchanged, i.e. purchases up to CZK 10,000 at the Infokiosk on the ground floor, 10 a.m. to 8 p.m., purchases over CZK 10,000 on-line on PALLADIUM´s website.