Magazine
autumn/winter 2019–2020
The new issue of PALLADIUM Magazine is out, with the most successful Slovak top model Michaela Kociánová on the cover! This issue features a fantasy theme and will guide you through the most recent Autumn and Winter trends.
You can look for inspiration on how to get into your own fantasy world anywhere, but we bring you a wide range of techniques which will wake up the creative spirits within you.
Find out what is currently in fashion in the section Autumn / Winter Trends and you can also find other tips in three Fashion Stories. The first one, called New Form, is dedicated to an oversize fashion which was popular in the 80s. The second one invites you to the Ladies Club, representing wearable classic fashion with a cock footprint pattern, checks, glitter and romantic scarves. And the last one, Before the Day Ends, is a display of elegant outfits in the 70s style which will make you a party star. As far as men´s fashion, you can read what the men at the top level are wearing, such as Prince Harry, musician Kanye West and actor Bradley Cooper.
Our beauty stylists will help you with your make-up (Makeup Trends) and hair style (New Season Hair Styling). If you want to know which mistakes you make in taking care of your skin, you might find the information on pages 42 and 43 useful. On the following page we will make all the non-sport lovers happy. We will introduce the NEAT activities which will keep your body in great shape without hard work and sweat.
The Travel column will take you to Mauritius, a colorful island in the middle of the Indian ocean where you can fulfill your deepest fantasies. And the Recipe column will help you to create fantastic meals which will make your taste buds explode.
And, finally, you can get inspired by tips for cool shopping from Mikolas Josef and check out what other celebrities recommend as far as new books and music.
You will find all of this and even more in our PALLADIUM Magazine.
Show Magazine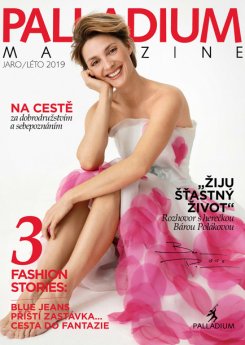 Spring/Summer 2019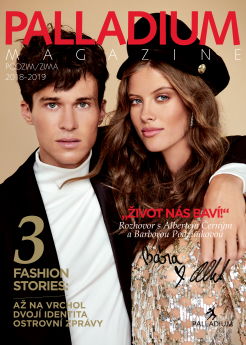 autumn/winter 2018–2019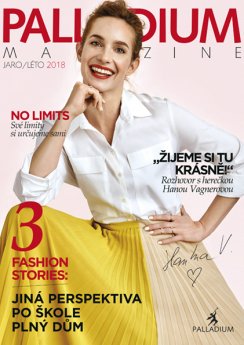 spring/summer 2018