Magazine
Spring/summer 2020
The new issue of PALLADIUM Magazine with professional tennis player, winner of 2019 Wimbledon women's doubles and world number one in women's doubles in 2019–2020, Bára Strýcová on the cover!
For this issue, which was put together during January and February, we chose the theme "On the waves" – on the ocean waves or also on life's waves which can leave you feeling up and then down… without having any idea what events the month of March will bring to Europe and the rest of the world.
You can discover tips for what is currently trendy in fashion or find inspiration in the Spring/Summer Trends section and in three different Fashion Stories. The first one, Surf & The City is dedicated to urban fashion for young people. The second one, Curly Girl, presents fresh colorful combinations for moms and their little girls. And the last one, Lightness of Being, shows elegant, romantic outfits full of powdery tones, transparent materials and delicate frills which are leading this season.
In the field of beauty, you can trust our beauty stylists. They will advise you on how to do your make-up (Make-up Trends column) and your hair (New Season Hair Styles column). If you would like to find out how technology has changed the cosmetic industry and what new trends it has led to in skincare, you may like the article New Era. Another article will show you a way to a healthy body if you have a sedentary job and do not have enough time for physical activities.
Even though the Summer season will not be good for travelling, you can check out the beauties of the Mediterranean island Mallorca and put it on your "bucket list ". Feel free to create a Mediterranean atmosphere right in your own house by trying out the Mediterranean recipes from the Recipes section.
At the end of the magazine you will find shopping tips from Karel Kovář, aka "Kovy", a youtuber and a semifinalist from the dancing show StarDance 2019. Other celebrities will guide you through the news from the book and music world.
PALLADIUM Magazine is available for free in special stands located on the ground floor, either by the Infokiosk (Náměstí Republiky entrance) or by the entrance from Na Poříčí street.
Show Magazine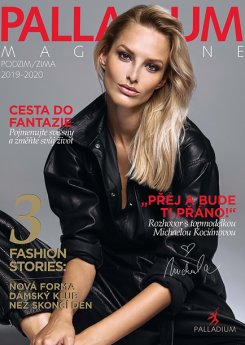 autumn/winter 2019–2020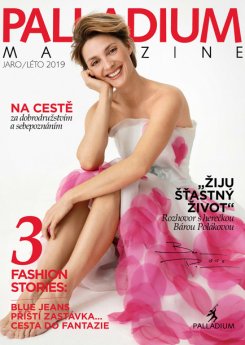 Spring/Summer 2019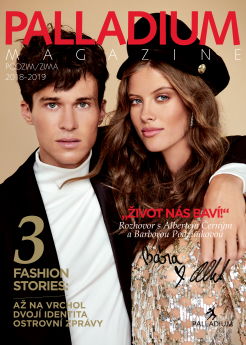 autumn/winter 2018–2019