Krajinoskop – exhibition of People in need (humanitarian charity) in PALLADIUM
Come and stop by in PALLADIUM at an original exhibition Krajinoskop organized by PALLADIUM together with the humanitarian organization People in need.
The exhibition consists of works by 4 young artists – Eliška Podzimková, Anna Niklová, Anna Borovičková Ročková and Petr Hrick – originally placed in 4 cabinets. These cabinets are located on 3 different floors in PALLADIUM (two on floor +2, one on floor 0 and one on floor –1), where you can see them until the beginning of April.

Petr Hricko
Petr Hricko is a native of Teplice in the Ústí Region. Teplice is surrounded by the wild and challenging landscape of the Krušné hory, a landscape that has drastically changed in appearance in recent decades. Once, it consisted of impenetrable forest and foliage so rich that it looked more black than green. Sadly, that landscape has become a wasteland of stumps and trunks barely resembling mature trees due to climate change and human activity.
In this metamorphosis, Petr found inspiration for his photography of opposites. The Past and Present cabinet compares what the nature around us once looked like—and what it looks like today. The spectacle is unhappy, and many can be overwhelmed by distress or anxiety. Where do you think this will lead? Whilst nobody knows the answer. However, in his work, Petr conveys the fact that hope is the last to die.

Anna Borovičková Ročková
We all associate our childhood and adolescence with a specific place – whether it is a cottage in the heart of Šumava, where we went on holiday, or a pier by the pond, or where we got our first kiss. We want to remember this place forever the way we experienced it, but do we know what it looks like now?
Anna Borovičková Ročková retains the memory of a forest with a meadow she visited as a child. There, she picked mushrooms, ran through the trees, and built houses for elves. Three years ago, she returned to this place to see how it was doing. But she found no more meadows or clearings because the whole forest had been cut down. So she conceived this work as a monument to her forest meadow, which Anička will remember forever.

Eliška Podzimková
According to Eliška Podzimková, very little information has been shared regarding the problems associated with insect loss. That is why the well-known animator and illustrator decided to project into her drawings the pitfalls and difficulties that lurk at every step for our smallest and most vulnerable creatures.
Agriculture, industry, and transport are the leading causes of the disappearance of butterflies and other invertebrates. The use of pesticides and the cultivation of monocultures destroy natural insect environments. At the same time, insects and various small creatures are indispensable for our existence. Instead of getting rid of them, we should consider protecting their homes and ecosystems. Eliška Podzimková's work draws us into the world of insects thanks to the Artivive app, which can move illustrations in front of you. Just download it and then point the phone at the picture.

Anna Niklová
Water is a resource that we cannot do anything without and upon which our entire existence depends. Water is also called life-giving, and as the attribute suggests, it gives creatures and plants the opportunity to live. We are nothing without water.

The distinctive works of these young artists reflect the theme of climate change. This is something that People in Need deals with on a daily basis both in the world and in the Czech Republic.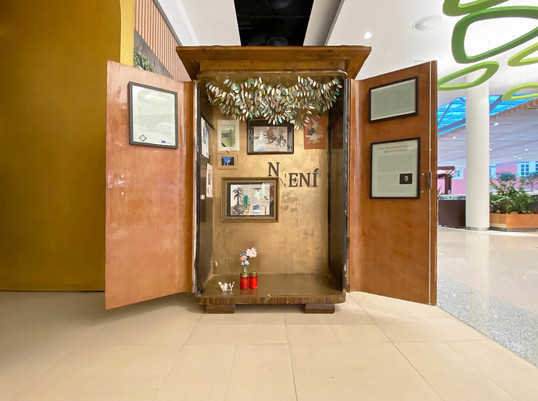 (Photo by PALLADIUM)