Information
Opening hours:
Today 8:00 – 23:00 more
Monday:

8:00 – 23:00

Tuesday:

8:00 – 23:00

Wednesdey:

8:00 – 23:00

Thursday:

8:00 – 23:00

Friday:

8:00 – 23:00

Saturday:

8:00 – 23:00

Sunday:

8:00 – 23:00
UGO Salaterie prepares fresh homemade soup and diverse salads for you daily, all from only the highest quality ingredients. We use appealing and non-traditional ingredients and combinations of materials and flavors.
We also adapt our offering to the current season to ensure the freshest food with the nutrient content your body needs most.
Our menu brings you:
● Balanced salads in a selection rotated several times a year to keep the choices fresh and the ingredients seasonal.
● Hot meals that fill you up but don't make you doze off at your monitor all afternoon.
● Everything from broths to full soups in an offering that changes every day and can easily suffice as a light lunch.
● Snacks and light lunches to go, in the form of distinctive wraps, hearty legume salads in boxes, chia pudding with fruit, and yogurt-quark cremes.
● A wide offering of fresh custom-made juices and smoothies that don't contain anything other than fruit. Not a trace of water, not a trace of sugar, 100% fruit and vegetable flavors according to your tastes.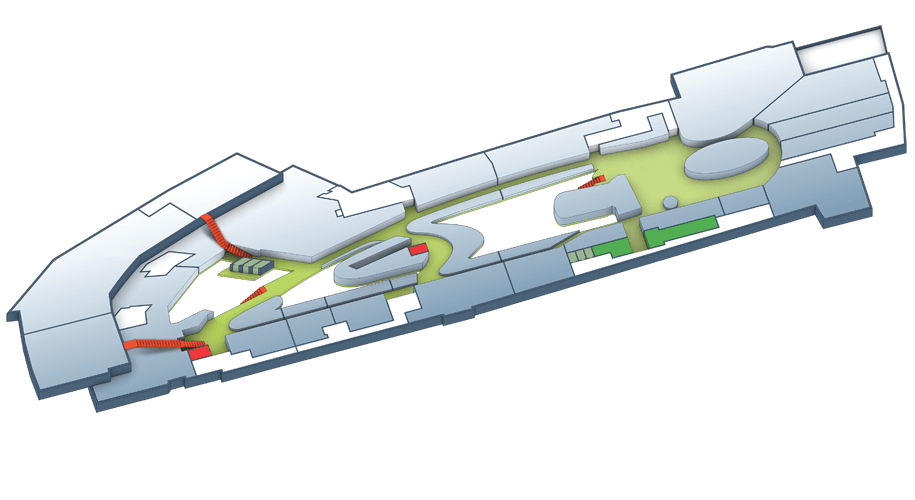 Information

Kiosk

Lift

Escalator

ATM

First aid

Children's corner

WC

WC

Nappy Changing Facility

Nappy Changing and Nursing Room

Parking

Escalator to / from parking

Tax Free Shop
Floor